Asakusa is famous as "shoes town", not only sightseeing spot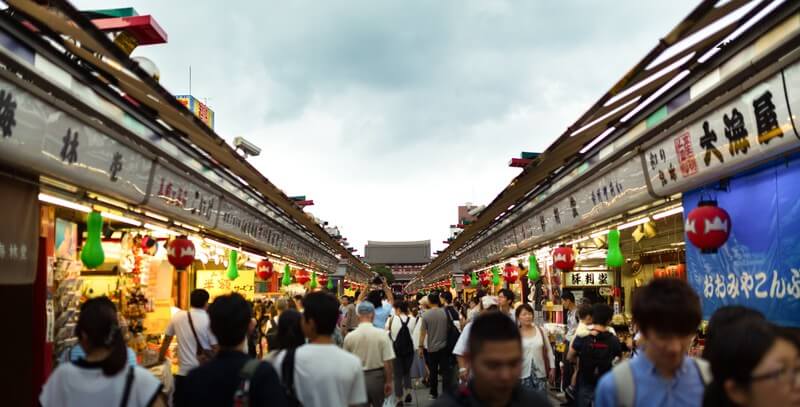 Asakusa is the most famous tourist destination in Tokyo. It is famous as a city where a lot of tourists are coming from domestic and foreign countries. You may have been there as well.
Actually, in addition to sightseeing spots, Asakusa also has a face as a "shoes town". This is not well known in Japan as well.
When you walk through the streets of Asakusa you will find that there are many shoe wholesale stores and town factories. Many of them are located in the north side of Asakusa Station, in areas where shops, factories and houses are mixed.
There are many shoe stores whose prices are cheap in Asakusa. It would be a great place to buy Japanese shoes cheaply.
Meanwhile, there is also a craft shop that makes high quality luxury leather shoes comparable to brand shoes of Western countries.
Asakusa's shoe store map
Here is the capture of the map where the locations of Asakusa's shoe factory, wholesaler, shop etc. are gathered. *Click to enlarge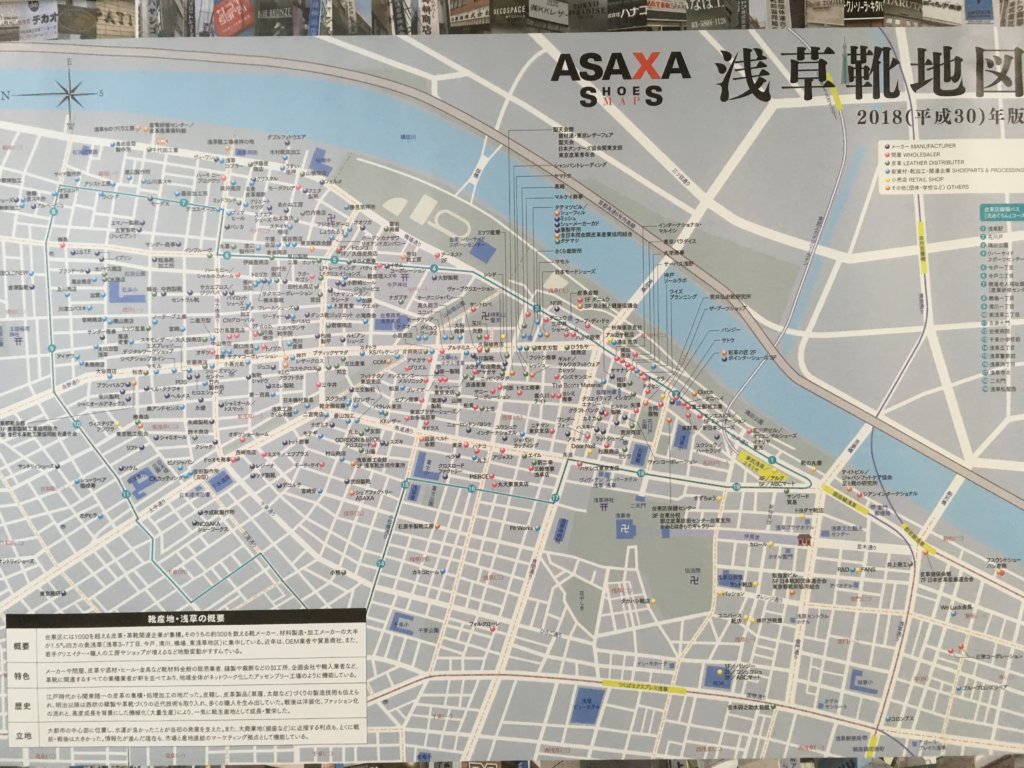 Let's take a look at the many of these colored dots. These are densely packed on the left side (north side) of Asakusa Station.
When walking around there you can see shoe shops and factories that process leather and make shoes frequently in the streets of mixed old and new houses.
So, despite the location far from the station, the business vehicles frequently come and go, the town factory craftsmen and the young apparel industry employees are walking a lot.
In Asakusa, you can participate in a tour to visit shoes factory. Factory of famous Japanese makers "Hirokawa shoes" (famous for "Scotch Grain" brand) located in Sumida Ward on the opposite of Asakusa has been exhibited once.
What types of shoes you can get
Of course Asakusa is a convenient city to find your favorite shoes. You can get various shoes from cheap things to fine luxury shoes. Let me introduce some famous shoe shops.
Large Shoe Shop "Kutsu no Maruzen"
If you buy shoes in Asakusa, you should first go to "Kutsu no Maruzen". Both men's and ladies have large assortments such as leather shoes, sneakers, casual shoes.
Since Maruzen was originally Asakusa's shoemaker / wholesaler, based on the distribution network they cultivated, they had a large selection of items and a price of 10 to 30% off even for new items.
Maruzen is also near from Asakusa station. You'd better go here if you buy shoes that you normally use.
Shop name
Kutsu no Maruzen (靴の丸善)
Business hours
10: 00-19: 00 (Saturdays, Sundays and holidays close at 18: 30)
Address / Access
1-2-4 Hanakawado, Taito-ku, Tokyo
Tobu and Subway Asakusa station 1 min. On foot
Website
http://kutsu-maruzen.com/
Super cheap! "Universe Shoe Store"
"Universe Shoe Store" which sells a lot of new shoes of less than 1,000 yen in a pair is in Shin-Nakamise shopping street where there are many tourists.
A lot of cheap shoes are stacked at the storefront of old-fashioned atmosphere. The appearance and the price have a great impact.
Although the target age of the product is high, tourists and residents of Asakusa also visit to buy for their cheapness.
Shop name
Universe Shoe Store (ユニバース靴店)
Business hours
10: 30-19: 30
Address / Access
1-28-5 Asakusa, Taito-ku, Tokyo
Tobu and Subway Asakusa station 4 min. /
Tsukuba Express Asakusa station 2 min. On foot
Website
http://www.universe-shoes.co.jp/
Luxury leather shoes from Asakusa "RENDO"
"RENDO" which began in Asakusa in 2013 is gradually taking the spotlight as Japan's high-end shoes because of its high quality.
RENDO was shoes that was piled up to make it really fit the Japanese foot. Fans are increasing for thorough fitting at trying on.
I went to the store the other day. It was a fashionable modern style, cool shop arrangement (warmth of woods and smell of leather is a comfortable, top quality factory shop)!
Personally I like leather shoes, but because I have less opportunity to wear and my budget was over, I did not purchase … I want to get one pair one day.
Shop name
RENDO
Business hours
13 : 00 – 19 : 00
Address / Access
7-5-5 Asakusa, Taito-ku, Tokyo
Tobu and Subway Asakusa station 13 min. On foot
Website
https://www.rendo-shoes.jp/
There are so many shoe shops in Asakusa. I introduced only three famous stores.
In addition, there are many other factories that undertake contract manufacturing and OEM production of shoes in Asakusa, so if you want your original shoes or goods, it may be good to visit the factory directly.
Reason why Asakusa became "shoes town"
Why there are many business establishments related to shoes in Asakusa is said that the accomplishment of a person called "Danzaemon (弾左衛門)" who was active in leather trading in Meiji era (18th century).
In the early Meiji Era, in anticipation of an increase in demand for military shoes, Dan invited craftworkers in shoes making from China and the United States to make leather shoemaking training stations and set up a factory in Asakusa.
After that, Dan received an order of massive military shoes of 120 thousand pairs, employed 451 shoemaker apprentices, and worked on manufacturing military shoes.
With this order as a trigger, a lot of shoe craftworkers were born from Asakusa, and thereafter the shoes industry seems to be thriving in Asakusa after that.
Let's touch the site of making shoes at Asakusa!
I talked about "Shoes town Asakusa" which is not limited to just sightseeing spot.
If you come to Asakusa, please enjoy the atmosphere of the real shoes town. I think that you can find quite a few shops and workshops just by walking around the north side of the station.
If you want to join a tour like this or hire a guide in your first language, please contact me. I'll propose plans and fees according to the contents.